The Practical Motorcycling Test
Riders must pass the theory test before booking their practical test. There are two parts to the practical motorcycle test:
Off-road module
On-road module
Both modules must be passed to get a full motorcycle licence.
Booking the test
The practical motorcycling test can be booked online at www.gov.uk/book-practical-driving-test or by calling DSA booking support on 0300 200 11 22. Candidates with special needs should declare this, so that appropriate arrangements can be made, if possible, to help them during the test.
Do not use an unofficial website to book your test, as you may pay more than necessary, and your test might not even be booked.
Both modules can be booked at the same time, but riders must pass module 1 before taking module 2. If they do not pass module 1, they must wait 3 full working days before they can retake it.
Taking the Test
There are rules about the type of moped or motorcycle that can be used for the motorcycle test. Check the list of motorcycles that can be used for practical riding tests.
A motorcycle with a sidecar can only be used for the test if the candidate has certain disabilities.
Test candidates must take the following documents to both modules of the motorcycle test (or the test may be cancelled and you could lose your fee):
Theory test pass certificate or confirmation (if they are not exempt from taking the theory test)
Both parts of their driving licence - the photocard and the paper counterpart. (If they have an old-style paper licence, they must take their signed driving licence and a valid passport. No other form of photographic identification is accepted.)
Compulsory basic training certificate (CBT)
Take the module 1 test pass certificate to your module 2 test.
Riders must wear the following items of safety clothing on the test, or it will be cancelled and they will lose their fee):
A motorcycle helmet that meets British safety standards (unless you are a Sikh and wearing a turban)
Motorcycle boots or other sturdy footwear that provides support and ankle protection
Textile or leather motorcycle trousers or heavy denim trousers
A textile or leather motorcycle jacket or a heavy denim jacket with several layers underneath
Motorcycle gloves
Further details about the practical motorcycle test are available at www.gov.uk/motorcycle-practical-test and www.gov.uk/motorcycle-practical-test/what-happens-during-the-motorcycle-practical-test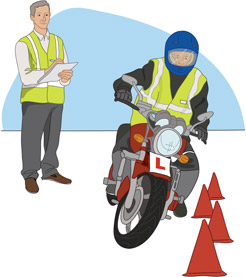 Module 1: off-road manoeuvres
Module 1 takes place in an off-road motorcycle area, and normally takes about 20 minutes. It includes:
Wheeling the moped or motorcycle and using the stand
Riding a slalom and figure of 8
A slow ride
A U-turn
Cornering and controlled stop
Cornering and the emergency stop
Cornering and hazard avoidance
Diagrams of the different types of layout can be downloaded from the links below:
Module 2: on-road riding
Module 2 takes place on public roads and normally takes about 40 minutes. It includes:
Eyesight test
Safety questions
Road riding
Independent riding
Candidates must take their module 1 pass certificate to the module 2 test, plus all the documents they had to bring to the module 1 test.
The eyesight test
The test begins with an eyesight test (if the candidate fails, the test will not continue). In good daylight, riders must be able to read a vehicle numberplate, made after 1 September 2001, from 20 metres. If they need glasses or contact lenses to read the number plates, they must wear them whenever they ride.
Vehicle safety questions
The examiner will ask the candidate some vehicle safety questions. The full list of the questions that could be asked by the examiner can be downloaded from www.direct.gov.uk/prod_consum_dg/groups/dg_digitalassets/@dg/@en/@motor/documents/digitalasset/dg_197378.pdf (PDF)
Road riding
The road riding will take place in a variety of road and traffic conditions, and will include:
Normal stops
An angle start (pulling out from behind a parked vehicle)
A hill start (where possible)
The examiner will give directions using a radio, and will normally follow the candidate on a motorcycle.
Independent riding
The driving test includes about 10 minutes of 'independent driving', during which the learner will be required to follow road signs or a series of directions, without step by step instructions. This is much closer to the normal riding conditions they will face after their test and is designed to assess their ability to ride safely while making decisions on their own. More details about the independent riding section of the test can be found at www.gov.uk/practical-driving-test-for-cars/independent-driving-section-of-the-test.
Types of faults
There are three types of faults that can be marked on the test:
A dangerous fault - involves actual danger to rider, the examiner, the public or property
A serious fault - could potentially be dangerous
A rider fault - not potentially dangerous, but if the same fault is made throughout the test it could become a serious fault
Module 1 pass mark
Candidates must make no more than five rider faults to pass module 1. If they make more than five rider faults, or one serious fault or one dangerous fault, they will fail the test. Candidates who fail module 1, will not be able to take modules 2.
Module 2 pass mark
Candidates must make no more than 10 rider faults to pass module 2. If they make more than 10 rider faults, or one serious fault or one dangerous fault, they will fail the test.
At the end of module 2, the he examiner will tell the candidate whether they have passed and explain how they did during the test. They will also give feedback about the eco-efficiency of their riding. The candidate's instructor can listen to this if they wish.
At the end of module 2, the examiner will tell you if you've passed or not and give you feedback on your riding. If you pass, the examiner will tell you how to change your provisional licence into a full licence.
If the candidate has passed the test, the examiner will give them a pass certificate, and ask if they want their full licence to be sent to them automatically. They can start riding straight away, without waiting for their licence to arrive.
The licence is only valid for the sub-category of motorcycle on which the rider passed their module 2 test.
If the test was passed on a motorcycle with a sidecar, the licence will only be valid for motorcycles with sidecars.
If the test was passed on a motorcycle with automatic or semi-automatic transmission, the licence will only be valid for those types of motorcycle.
If the candidate has not passed, they must wait three working days before they can take another module 1 test, and 10 working days before they can take another module 2 test.
After Passing the Driving Test
It is important that riders continue to develop their riding skills after passing the motorcycle test. The enhanced Rider Scheme is designed to help them do this. Visit the After the Test section to find out more.