Safety Equipment and Clothes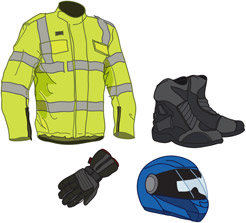 It is important to ensure that your learner is kitted out correctly, with the right clothing and equipment.
Helmet
When riding on the road, your learner must wear a motorcycle helmet that fits properly and is correctly fastened. This will reduce the risk of receiving head or brain injuries in a crash.
Helmets must comply with at least one of these standards:
British Standard BS 6658:1985 and carry the BSI (British Standards Institution) Kitemark
UNECE Regulation 22.05
any standard accepted by a member of the European Economic Area which offers a level of safety and protection equivalent to BS 6658:1985 and carry a mark equivalent to the BSI Kitemark
A British Standard and display a BSI Kitemark
A European standard that offers an equivalent level of safety and protection to the British Standard and carries a mark equivalent to the BSI Kitemark (ECE 22-05).
SHARP, the Helmet Safety Scheme
SHARP, the Helmet Safety Scheme provides an independent assessment of how much protection a helmet can offer in an impact, and rates helmets from 1 to 5 stars. The more SHARP stars a helmet has, the better the protection it can give. Details are available on the SHARP website at http://sharp.direct.gov.uk/.
It is important that the helmet fits the rider snugly and does not move about on their head. It is well worth taking the time to find the right helmet.
A helmet that has been involved in an impact should be replaced, even if there is no visible damage.
Do not buy a second hand helmet because you cannot be sure about its history. It may have internal damage that is invisible to the naked eye, and so not provide enough protection in a crash.
Visors and Goggles
If the learner uses an open-faced helmet, a visor or goggles are vital to protect his or her eyes from wind, rain, insects and road dirt. Visors or goggles must comply with either:
A British Standard and displays a BSI Kitemark
A European standard which offers an equivalent level of safety and protection to the British Standard and carries a mark equivalent to the BSI Kitemark (ECE 22-05)
Visor and goggles must be kept clean, and if they become heavily scratched, they should be replaced.
Riders should not wear tinted glasses, visors or goggles if riding in the dark or conditions of poor visibility.
Clothing
Good motorcycle clothing will protect the learner from the wet and cold and from some types of injury.
When choosing clothing look for abrasion resistant materials, such as leather, as well as kevlar and padding or body armour to protect from impact injuries. Also look to see if the clothing is waterproof or if additional waterproof layers will need to be purchased. Fluorescent and reflective garments will make the rider more visible to drivers. Waterproof and thermal clothing are very useful extras - riders who are warm and dry are much more alert.
For the fashion conscious rider, there are suppliers of 'trendy' protective clothing.
Good gloves or gauntlets are essential when riding a motorcycle. They protect the rider's hands from cold, wet weather, and from injury if they fall off, and allow the rider to operate the controls easily.
It is equally important to wear good boots or strong footwear which cover the ankle when riding.
All motorcycle clothing which claims to offer protection from injury must have a CE mark.
Detailed advice on helmets and protective clothing is available in good motorcycling books, such as the official DSA guide to learning to ride and the DSA guide to riding - the essential skills. These can be purchased from www.safedrivingforlife.info/shop/motorbike or from good bookshops.
A free "Essential guide to protective gear for bikers" is available at http://think.direct.gov.uk/assets/pdf/dg_195215.pdf (PDF)
Safety advice on all aspects of motorcycling is also available at www.safedrivingforlife.info/drivers-and-riders/riders/motorcyclist-knowledge-centre.