Supervised Practice
Good Way to Gain Experience
Private practice is a good way of building upon the experience that a learner rider picks up during professional lessons. Unlike car drivers, learner riders can and do ride on their own without supervision. This is to be encouraged because they need to get plenty of experience of riding over different routes and under different conditions.
However, if you are an experienced motorcyclist, it is also very useful to go for rides with your learner. This should be co-ordinated with the learner's professional lessons (it is not a replacement for lessons).
It's better if learner motorcyclists are accompanied on rides in conditions they have not encountered before. For example, their first ride in the rain or on a dual carriageway should be with an experienced rider. This will help them to understand the unique demands that each new situation makes.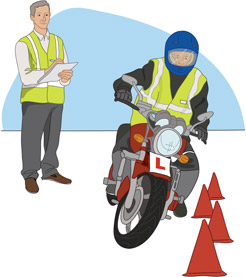 When younger learners ride in groups there may be the risk of peer group pressure, and young riders may be tempted to show off and copy dangerous manoeuvres from each other. You should encourage your learner to gain experience with motorcyclists who will be able to help them develop their skills and a safe attitude to riding. Consider joining a reputable club.
Speaking to the Instructor
It is very important to maintain good communication with your learner's instructor. First of all, to check when it is safe to begin private practice, and then to co-ordinate what happens during practice rides with the professional lessons. This will ensure that the learner gains the maximum benefit from their learning experience, and the best value for money for the lessons.
The instructor will tell the learner rider what skills he or she needs to brush up on after each lesson, and you should concentrate on these skills. Although the learner will probably have some idea of the parts of their riding they need to improve, encourage them to ask the instructor at the end of every lesson what they should practice before the next lesson.
If you have any concerns about the riding techniques being taught by the instructor, discuss these with him or her rather than contradict them during practice rides.
Ask to sit in on some of the lessons; most instructors should be happy for you to do this. It will help you pick up how professional lessons are structured and how the instructor helps and encourages the learner to develop their skills as a safer rider. It will also give you a good idea of the routes being used and traffic situations they encounter on them.
Before You Start
Make Sure the Learner is Ready
Before taking a learner rider on practice rides, make sure that they have passed their CBT. It is better to wait until the instructor says they are ready to start private practice.
You will need to ensure that both you and the learner meet all the Legal Requirements.
Make Sure You Are Ready
Brush up on your own skills before you take a learner out on private practice rides, so you are up-to-date with current riding rules and techniques. This will also help you avoid passing on any bad habits you may have acquired, or contradicting what the professional instructor is teaching the learner (if you disagree with it, discuss this with the instructor).
Consider taking a refresher rider training course with a professional instructor who is part of the Enhanced Rider Scheme. Contact details can be found at www.gov.uk/enhanced-rider-scheme-trainer. Consider joining a local riding group, such as RoSPA's Advanced Drivers and Riders, to further develop your riding skills. Details of local groups can be found at www.roadar.org.
At the very least, make sure that you (and the learner) are familiar with the latest edition of The Highway Code - it's probably changed since you last read it. The Highway Code is available from good bookshops or free online at www.gov.uk/highway-code.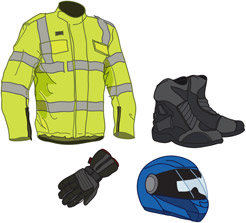 Make Sure Your Bike and Riding Kit is Ready
Make sure your motorcycle or moped, and the learner's one, are in a safe and legal condition. They must be properly taxed, have a valid MOT and both you and the learner must be insured to drive them.
This is also a good time to have them serviced, if necessary.
Pre-Ride Checks
Do a pre-ride check, with your learner, so that they know how to keep their vehicle in a safe and legal condition. The learner will be asked to demonstrate or explain some of this knowledge as part of their Driving Test.
Check:
Tyres are undamaged (no cuts or bulges), are at the correct pressure and have enough tread depth. The legal minimum for a motorcycle exceeding 50cc is 1mm continuously across three-quarters of the tyre, all around the tyre. For mopeds and motorcycles with an engine capacity not exceeding 50cc the tyres must have a visible tread. Most tyres have tread wear indicators, which are exposed when the tread is worn down to 1 mm.
There are no signs of vehicle damage
Oil and coolant levels are correct (check when cold)
You know the correct type of fuel for the motorcycle or moped
Brakes are working
Lights and indicators are working
Mirrors are correctly positioned
Also check their riding kit, particularly the helmet, boots, gloves, etc. and make sure that visor is legal, clean and unscratched.
It may be a good idea to check your learner's bike frequently to ensure it has not been tampered with, or had the speed restriction removed.