Further Training
Take a Pass Plus Course
Encourage the newly qualified driver to take a Pass Plus course. This is extra driving lessons with a Pass Plus registered professional instructor in different conditions (including motorways). It includes 6 modules:
Town Driving
All-weather Driving
Driving Out Of Town
Night Driving
Driving On Dual Carriageways
Driving On Motorways
There is no test, but driving is continually assessed throughout the course and the trainee must reach the required standard to pass the course and gain a Pass Plus certificate.
New drivers who complete a Pass Plus course may be able to obtain reduced insurance premiums from some insurance companies. Some local authorities offer discounts off the cost of Pass Plus; contact the Road Safety Department at your local council.
More information on Pass Plus is available at www.gov.uk/pass-plus.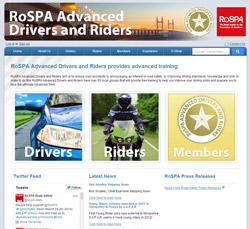 Motorway Driving
Many new drivers find driving on motorways for the first time difficult and stressful. It helps if you accompany your new driver on the motorway the first few times.
Further Training
It would be a good idea for both of you to consider joining a local driving group, such as RoSPA's Advanced Drivers and Riders, to further develop your driving skills. Details of local groups can be found at www.roadar.org.