Choosing a First Car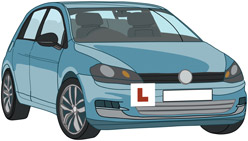 The first car for new drivers is very often second hand and, due to budget constraints, may not have many of the safety features which are taken for granted on more modern vehicles. Remember, if the new driver passed their test in an automatic car, they are only licensed to drive automatic cars.
If choosing a second hand car, get it checked by a qualified mechanic before buying to ensure it is legal and in a safe condition.
Reduce the risk of buying a stolen, or previously written off, car by using the DVLA's online vehicle enquiry service at www.gov.uk/get-vehicle-information-from-dvla to check:
V5C Vehicle Registration Certificate ('log book')
Check that the V5C vehicle registration certificate ('log book') has a 'DVL' watermark, is the latest issued and the details in the log book are correct at www.gov.uk/get-vehicle-information-from-dvla.
MOT
Check if the MOT certificate is genuine and that the car's MOT history is correct at www.gov.uk/check-mot-history-vehicle.
HPI Check
It is also very worthwhile to do an HPI check to ensure there is no outstanding finance on the car.
Vehicle Safety
Vehicle technology (e.g. telematics, brake assist, lane keeping) is developing rapidly, meaning that newer cars usually provide more safety than older equivalent ones. The Vehicle Safety section of the RoSPA website is a good starting point to find out about vehicle safety technology.
Whatever car is being considered, check its EURONCAP rating at (www.euroncap.com), which will give a good indication of the level of safety and crash protection it provides.
P Plates
'P' plates can be displayed on the new driver's vehicle for a period of time after the test to tell other road users that there is an inexperienced driver at the wheel. They also remind the new driver that they are inexperienced.