Before You Start
Make sure that you and the learner are ready to start private practice drives, and that your car has been checked.
Keep Records
During the learning period, it is helpful to keep a record of your learner's development.
The Driver's Record for Learner Drivers (PDF) will help you plan private practice, assess progress and identify areas that need more practise.
Consider using telematics, either by having a 'black box' fitted or by using an App on a smartphone during the drive (but do not use the phone for any other purpose during the drive). Telematics records the way the vehicle is being driven, and provides feedback about the driving, advice on improvements and a driving risk rating. The feedback is usually provided online or by an app, and provides very useful, objective data on driving style and risk, and can be helpful when discussing practice drives with the learner.
Many motor insurers offer policies that include the use of telematics, or they can be purchased separately. A telematics insurance policy is a useful way of reducing the new driver's risk, and their insurance premiums, especially during their first year or two of unsupervised driving after passing their test.
Decide What You Want To Work on During the Practice
The aim of private practice is to give the learner more experience in dealing with situations they have been introduced to in their professional lessons.
Before you take a learner driver out on a private practice drive, decide on the skills that you want to focus on. These could be things that the learner wants to practise in order to gain more confidence, or areas that the instructor has said need improving.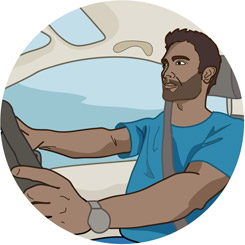 The Learner
Make Sure the Learner is Ready
Make sure the learner has a valid provisional driving licence, that they are insured to drive the car, and that both you and the learner meet all the legal requirements (see The Law).
Ensure the learner has mastered the basic car control skills, including the emergency stop. He or she should take some lessons with a professional instructor in a dual-controlled car before starting private practice. Talk to their instructor to find out when they are ready to start private practice.
Discuss the purpose of the private practice with your learner - it is to help them practise what they are being taught in their professional lessons, and to increase the amount of driving experience they gain during their learning period. This will help them to pass the test and reduce the chances of crashing afterwards.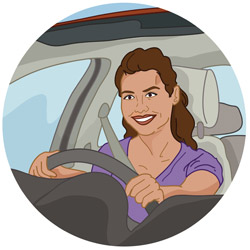 The Superviser
Make Sure You Are Ready
Brush up on your own skills before you take a learner out on private practice drives, so you are up-to-date with current driving rules and techniques. This will also help you avoid passing on any bad habits you may have acquired, or contradicting what the professional instructor is teaching the learner (if you disagree with it, discuss this with the instructor).
Consider taking a refresher driver training course with a professional instructor - use 'Find your nearest driving instructors' at www.gov.uk/find-driving-schools-and-lessons#before-you-start, or local directories or word of mouth recommendations. Look for one who offers refresher courses and who has signed up to the DVSA's voluntary continuing professional development (CPD) scheme and the ADI code of practice.
Consider joining a local driving group, such as RoSPA's Advanced Drivers and Riders, to further develop your driving skills.
If you drive for work, ask your employer if they could arrange a driver assessment course for you.
At the very least, make sure that you (and the learner) are familiar with the latest edition of The Highway Code - it's probably changed since you last read it. The Highway Code is available from good bookshops or free online at www.gov.uk/highway-code.
The "National Driving Standard for driving cars and light vans" describes the skills, knowledge and understanding needed to be a safe and responsible driver of a category B vehicle. It is available free at www.gov.uk/government/publications/car-and-small-van-driving-syllabus.
The Car
Make Sure Your Car is Ready
Make sure the car is in a safe and legal condition. It must be properly taxed, have a valid MOT (unless it is under three years old) and both you and the learner must be insured to drive it.
This is also a good time to have it serviced, if necessary.
You must also ensure that L Plates (or D Plates in Wales) are displayed on the front and rear of the vehicle whenever the learner is driving. Remember to remove them after each practice drive.
You may also wish to buy an interior rear-view mirror for the passenger side to help you see what's happening behind. Be sure to locate it well away from any airbags, and check that it is positioned safely with your vehicle manufacturer.
Pre-Drive Checks
Do a pre-drive check, with your learner, before practice drives, so that they know how to keep the car in a safe and legal condition, and get them into the habit of doing regular checks. The learner will be asked to demonstrate this knowledge as part of their driving test.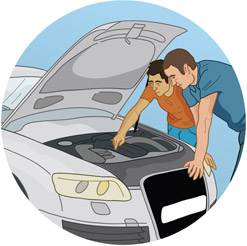 Check:
Tyres are undamaged (no cuts or bulges), are at the correct pressure and have enough tread depth. The legal minimum is 1.6mm, but above 3mm gives much shorter braking distances in the wet
There are no signs of vehicle damage
Oil, coolant and windscreen wash levels are correct (check when cold)
You know the correct type of fuel for the vehicle
Brakes are working
Lights and indicators are working
Windscreen and windows are not damaged
Washers and wipers are working
Mirrors are correctly positioned
If you're not sure how to do these checks, read the vehicle's handbook, and/or ask someone to show you. A short film showing how to do simple vehicle checks is available at www.youtube.com/watch?v=h7FaGk30buI.
Make sure the car displays L plates (or D Plates in Wales) while the learner is driving, but remove or cover them when you are driving.
Tyres
It is particularly important to check tyres regularly. The tyre pressure should be inflated to the manufacturers recommended figure, and the treads should be checked to ensure that they are above the legal minimum of 1.6mm, although a tread depth of above 3mm gives much shorter braking distances in the wet. Click here for further advice on tyre safety.
Interior Checks
The driver's seat may need to be adjusted so that the learner can easily reach all the controls and has a good view of the road over the bonnet, and around the vehicle. The learner will probably need to adjust the mirrors also, which they should do before moving off.
Seat Belts and Head Restraints
Make sure that both you and your learner always wear your seat belts.
You should each also adjust the head restraint to prevent whiplash, in case you are in a collison. The top of the head restraint should be level with the top of your head. Click here for advice on using head restraints.
Don't forget to re-adjust seats, head restraints and mirrors when each practice drive is over and you will be driving the car once again.
The Routes
Plan Before You Set Off
It is important to plan a route for the practice drives in advance, especially during the early part of the learning period. Remember that learners cannot legally drive on the motorway.
Discuss the best sort of routes and driving conditions to include in the private practice with your learner's instructor.
Make sure that there are no distractions that will prevent the learner from concentrating, such as young children or loud music.
Make Sure the Route is Suitable for your Learner
Start with short and less demanding drives - learners get tired and lose concentration easily.
Try to avoid traffic situations and roads that the learner may find difficult to cope with. For example, initially try to stay away from:
Narrow Streets, as the learner may find it hard to judge the width of the car and its road position
Busy Roundabouts, heavy traffic on a roundabout can be daunting
Dual carriageways, if your learner is new to driving then they may find it daunting to drive at speeds
Bad weather conditions with poor visibility
As your learner gains more driving experience, you can introduce them to a wider range of situations. Gradually increase the difficulty of the driving and include longer drives in a range of conditions:
Daylight and Darkness
Dry and wet (avoid severe weather conditions)
Built-up and non-built up roads
Single and dual carriageway roads (not motorways)
Roads with different speed limits
A good way to increase private practise is to let the learner drive you on joint trips, to the shops, for example.
As the learner gains experience, let them plan routes.
If you have telematics in the car, use it to record the drive so you and the learner can review the feedback about it later. If not, use the Driver's Record for Learner Drivers (PDF) or make notes about the journey so that you can talk about it with your learner afterwards.