Private Practice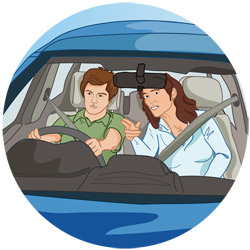 Additional private driving practice, supervised by a parent or friend, helps the learner to practise what they are being taught in their professional lessons in a wider range of driving situations. It will also help them to pass the driving test. However, the aim is not to pass the test as quickly as possible, but to help the learner driver get as much supervised driving experience as possible while they are learning.
Why Do Private Practice? explains the reasons for giving your young driver extra driving practice in addition to their professional lessons.
The Law explains what you must do to make sure you and your learner driver meet all the legal requirements for private practice.
Before You Start gives advice on how best to prepare yourself, the learner, the car and the routes you will use.
During the Drive has for tips on what to do during the drives and how to get the best results from them.
After the Drive has advice on discussing what happened during the drives and to get ready for the next one.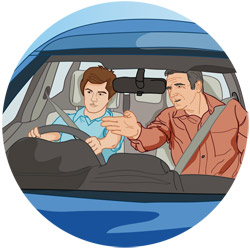 Make sure that the private practice is co-ordinated with the professional lessons - talk to their driving instructor and work together. Agree when it's best to start the private practice; this may be after the first few driving lessons so that the learner can get comfortable with the car's controls in a dual-controlled car first.
Once you start, if possible aim to take the learner out for at least one practice drive for every professional lesson.
Plan your practice drives in advance. By taking a structured approach to frequent private practice, to build up the learner driver's experience, you can reduce the risk that they will be involved in an accident once they are able to drive unsupervised.
Remember to set a good example in the way you drive. Your learner is less likely to take your advice seriously, if you do not follow it yourself when driving. If you break speed limits, how can you convince your young driver to respect them?
This is a very good time for you to consider taking some refresher training. At the very least, read the latest edition of the Highway Code.